Welcome to Bible Novels!
My objective in writing novels based on the Bible is to give an accurate story from the Bible, yet told with the addition of background material from those ancient times. All of my stories are written with my children and grandchildren in mind. I would consider it an honor if you decide to read them. God bless! -- Jim Baumgardner, Author
---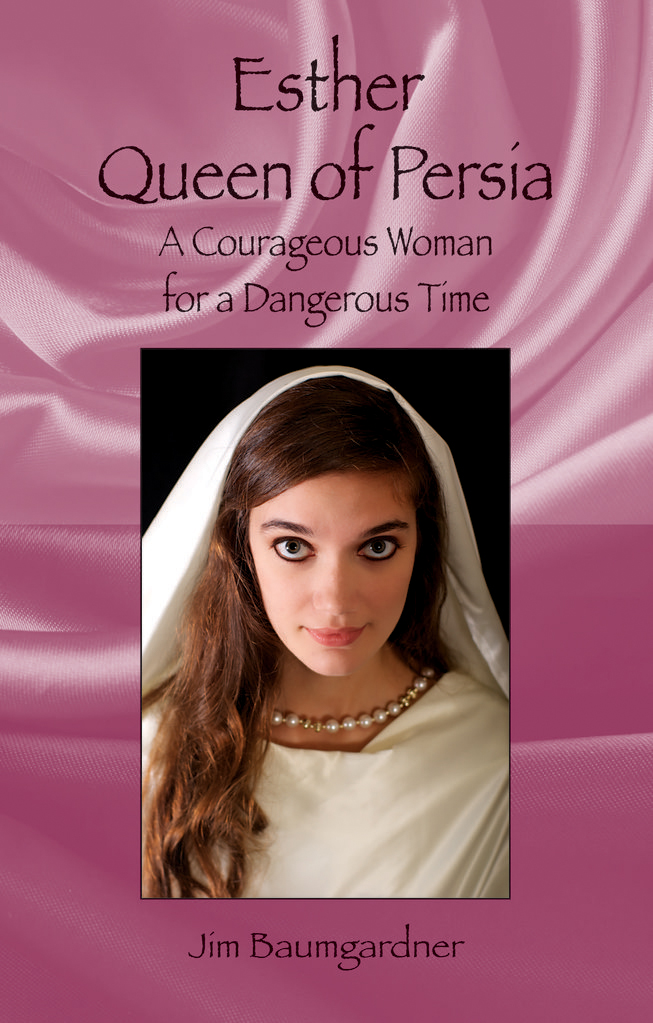 Esther, Queen of Persia by Jim Baumgardner is an outstanding, biblically accurate and historically consistent presentation of the Book of Esther. Combining an intimate familiarity with the Book of Esther, with an intensive study of the historical customs and events of the Persian Empire, Baumgardner has penned a moving and very believable historical fiction novel. True to the biblical account, this book offers a rare glimpse into the past, when Persia ruled the known world, from India to Libya. At times one wonders if, perhaps, Baumgardner hadn't located an unknown scroll from that era and merely copied a true story … it's that believable. Esther was a mere teenager when King Ahasuerus commanded that a large number of young virgins be brought to the palace, and prepared for a year to become presentable for the King's bedroom. Ahasuerus needed a queen to replace Queen Vashti, whom he had banished from the kingdom in a drunken rage some years earlier. If you know the story of the Book of Esther, you know it was she who ultimately was selected for that lofty position.
Esther, Queen of Persia is a fascinating tale. The minute details Baumgardner included brought this story to life. Even knowing the biblical account, I still found myself in suspense, wondering what would happen next. If this story were entirely fabricated, with no biblical or historical documentation from which to build it, it would still be remarkably entertaining. The fact that it IS built upon a true story just makes it that much more beguiling. This story is not strictly for Jews and Christians; anyone who enjoys historical fiction will find Esther, Queen of Persia to be a captivating and charming love story. I urge all readers to consider enjoying this book. I sincerely hope Jim Baumgardner plans to write more such stories; he has a very obvious talent for weaving history and timely imagination into a great tale. –Readers' Favorite
---
"Esther… a very thoughtful story. …a Christian author, whose writings show a deep knowledge and respect for Jewish people. Baumgardner remains faithful to the plot points that are covered in the Megillah…" --Editor, San Diego Jewish World
"Great job. You really know how to make the Bible come alive." --Orin Friesen, KFDI radio, and operations manager of the Prairie Rose Chuckwagon Supper
---
Fan Mail:
"Excellent book - more than worth the price of a kindle download. This one had me mesmerized, so finished it in a couple of days. Love all your works Jim!" --Stephanie
"In my opinion, this is by far your best work to date. I could tell you did a lot of research for this project. Very well done." -Amy
"I'm still amazed at the creative work you can do. Where do you come up with this stuff? Very good. Again!" -Wendy
"Finished the book and really, really enjoyed it. Going to loan it to a friend to read." -Jan
"I'm reading Esther, Queen of Persia right now, and it is fabulous!!" -Mati
"That book is a winner. I enjoyed it immensely." -Carol
---
Esther Queen of Persia - A Courageous Woman for a Dangerous Time

---
Hadassah, a young, Jewish orphan, forced to enter the palace at Shushan, has had her world turned upside down by Ahasuerus, the despot King of Persia. Not only has Hegai, the custodian of women, changed her name but, everything about her life is now controlled by this eunuch. She must witness and experience the heathen excesses of the palace while awaiting her night with the king in his bedchamber. Why has God allowed this to happen? Author, Jim Baumgardner provides the answer when you enter the 5th Century B.C. world of the vast Persian Empire where Hadassah becomes Queen Esther, and her life is forever changed through the providence of God.
---
Order a copy today. You save $4.00 off the retail price of $16.95. Purchase from the author and have your copy autographed. Now only $12.95.
---
Enter one or multiple names into the "Autograph to" box. If you do not have a PayPal account-no problem. Click "add to cart" which will take you to the shopping cart. Then click on "check out" button which takes you to "choose a way to pay" page. At the bottom click on "Don't have a PayPal account?". Enter your credit card info. It's easy.

---

"My Son" is different from other works on the life of Christ. The story is told from Mary's viewpoint, yet fully based on the Holy Scriptures. Read below the teaser from the back cover.
---
"Behold the Lamb of God"
She's a pregnant teen in a strict, intolerant society. Mary of Nazareth must face her family, and the man she loves, with a story that is outrageous at best, and unforgivable at worst. Her parents refuse to believe, and Joseph considers how he will put her away. Nevertheless, she sticks to her story, claiming she remains a virgin, yet she carries a baby within her womb. The shame of her condition is heartache enough, but swearing she has never been with a man makes her appear irrational.
Drawing from the accounts of Christ's life in the pages of the Gospels, award winning author, Jim Baumgardner, presents the story of Jesus Christ from his mother's viewpoint. How did Mary understand her son's life and teachings? The author seeks to give an answer from Scripture while presenting a mother's likely reaction t