Welcome to Bible Novels!
This site is new. I will be continually adding information and pages over the next few months, and a new blog is in the planning stages, too. My objective in writing novels based on the Bible is to give an accurate story from the Bible, yet told with the addition of background material from those ancient times. All of my stories are written with my children and grandchildren in mind. I would consider it an honor if you decide to read them. God bless! -- Jim Baumgardner, Author
---

"My Son" is different from other works on the life of Christ. The story is told from Mary's viewpoint, yet fully based on the Holy Scriptures. Read below the teaser from the back cover.
---
"Behold the Lamb of God"
She's a pregnant teen in a strict, intolerant society. Mary of Nazareth must face her family, and the man she loves, with a story that is outrageous at best, and unforgivable at worst. Her parents refuse to believe, and Joseph considers how he will put her away. Nevertheless, she sticks to her story, claiming she remains a virgin, yet she carries a baby within her womb. The shame of her condition is heartache enough, but swearing she has never been with a man makes her appear irrational.
Drawing from the accounts of Christ's life in the pages of the Gospels, award winning author, Jim Baumgardner, presents the story of Jesus Christ from his mother's viewpoint. How did Mary understand her son's life and teachings? The author seeks to give an answer from Scripture while presenting a mother's likely reaction to the events surrounding her son's life.
Follow in the footsteps of Jesus, and let his life and times come alive through Mary's eyes as she tells the story of "My Son".
---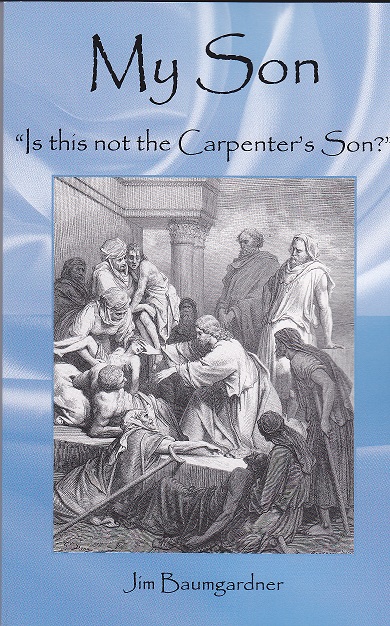 ---
"Is this not the Carpenter's Son?"
The angel Gabriel promised his mother that Jesus would be King. Now, thirty years later, Mary has grown impatient. Jesus continues as an itinerant Rabbi, traveling about Galilee preaching a Kingdom which remains only a promise. Nonetheless, her son's popularity has never been greater. If ever the time will come to revolt against the Romans that moment has arrived. Thousands of Jews are ready to take up swords, storm the gates of Jerusalem, and by force make him King. Yet, instead of going to the great city in triumph, he delays.
While the authorities continue to plot against him, and his own brothers and sisters refuse to believe in him, Jesus returns to his hometown of Nazareth where only a few months before a mob attempted to kill him.
"Is this not the carpenter's son? Why should we believe in him as the Messiah? Show us a sign from heaven." How will Jesus answer his enemies?
In the second book of the series, Jim Baumgardner, again presents a fresh view of the life of Christ through Mary's eyes as she recounts the story of "My Son".